Exclusive and Soulful Custom Jewelry Design

Certain things and especially jewelry can serve as a worthy reminder of the blessings and gains in our lives. Of how far we've come or where we want to go. Of celebrating our successes and our ability to overcome obstacles. In our private and our business life. 

The design reflecting
your ideas, your Soul
Logo jewelry
for entrepreneurs 
When we design and work on your individual pieces together, let's aim to infuse the most positive answers to questions like:
What does it tell about you?

Does it serve you?

Does it reflect the life and business spirit, attitude and personality of you? 

Is it as authentic and unique as you, the person wearing or giving it? Is it a beautiful sign and reminder of your greatness?
In the creation process, the most important ingredients for your signature piece are your own unique ideas, visions and intentions.
Sometimes, the design, the look and feel is already clearly defined from the beginning, like when we work with a logo, a symbol or a family crest. With memories, names or additional material like porcelain from the family's coffee service. When it's a present for a bride or mom to be.
Sometimes, there is a more profound "treasure hunt" involved, where we take more time and energy to get clarity, to find the proper style for the particular piece and to work on the different options available from a design or technical perspective.
The result is as individual as your story. And there is only one of a kind. Because each piece is individually created, handmade from scratch with all the heart, soul and expertise that makes it as valuable as it can be. A VIP's jewelry anchoring your power. A means of wearing your greatness on the outside.
Whereas jewelry can serve as a symbol with a very private meaning or message anchored, a logo on the other hand needs to fulfill a much more public role.
If you are an entrepreneur, you probably have your logo on paper, on your business cards, on your website, on a Facebook banner and in some other places. With all blood and sweat (and money) poured into it. Expressing what you want to show about your business, right?! Well, couldn't it do more for you? Will it stay flat and 2-dimensional? I know, it holds so much of your energy, your why and the greatness of your business. And it should live with you, do more for you! Let it speak. Wear it. Touch it. Use it as your anchor when you need strength, as a reminder of your goals. Let it work its magic as an identifier, signature piece and eye-catcher. Wear your logo as a piece of exclusive jewelry handmade from pure silver. Let it stand out and impress your counterpart with your message without using words, in a subtle yet extraordinary way. The design is clear and yours. I'll translate the image into pure silver for you in the way and dimensions you like. As an one-of-a-kind piece of art like your business is.
So if you ever you wonder if your logo would work as an accessory or how it could look like a as pendant, a ring, a pin, if you you even think of having a special version created as a gift for your VIP customers –
either way, I can't wait to talk with you and exchange some ideas for your individual piece of logo jewelry.
Individual & Group Workshops with Coaching and Design
Life & Business Symbol

including silver and tools
In Mannheim for 4 participants max.
345€ incl. 19% VAT per person
Sternenworkshop

including silver and tools
In Mannheim 6 participants max.
99€ incl. 19% VAT per person
The online bracelet creator
For creating your individual bracelet with words and numbers go to the 
For your order please contact me with your details.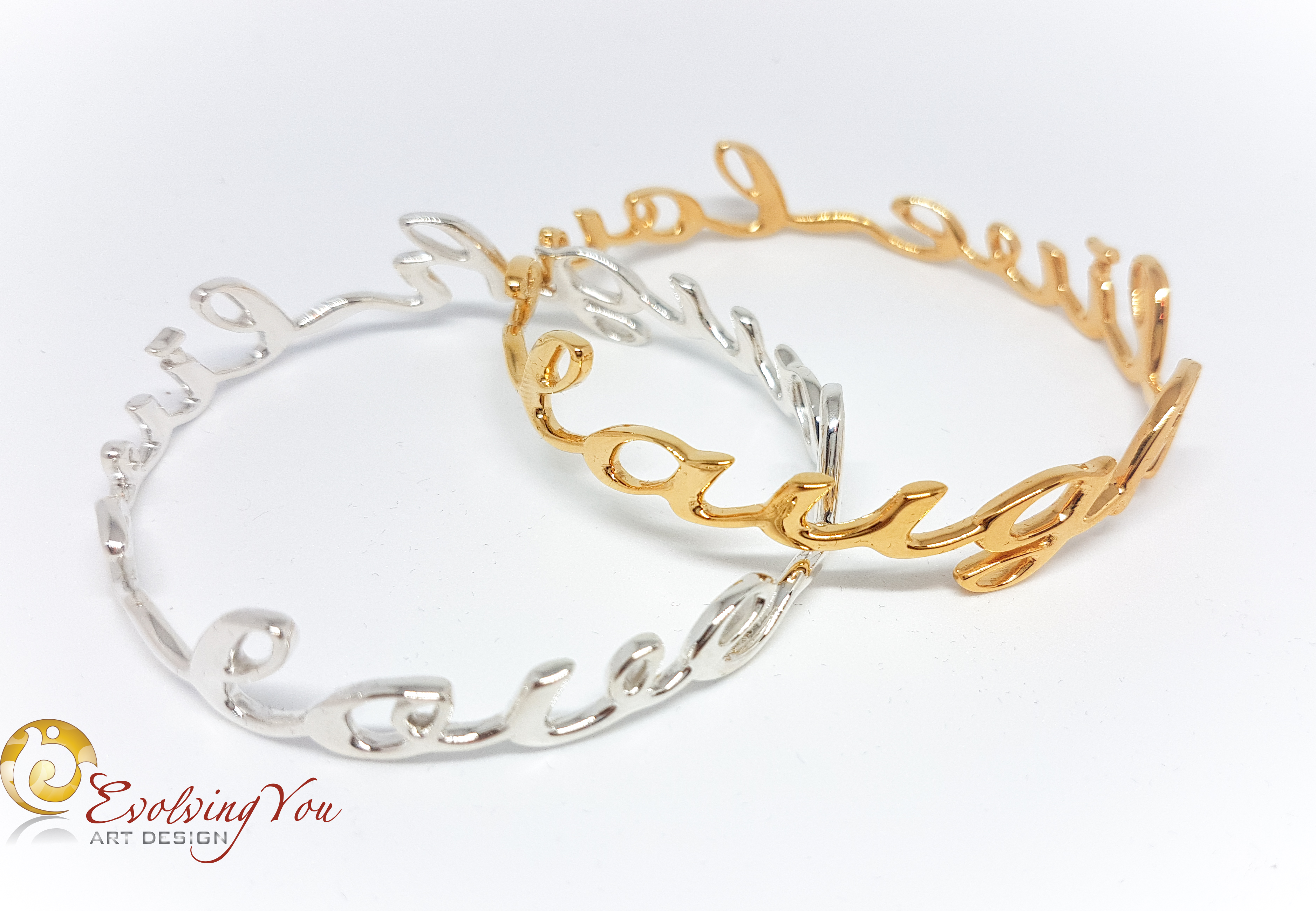 Die Arbeit von Gisela Backe kann ich in einem Satz zusammenfassen: "Alles sehr schön geworden!" 
Die Qualität und Exklusivität des Schmuckstücks entspricht ganz meinen Ansprüchen und der persönliche Kundenservice rundet das Angebot perfekt ab. Von der telefonischen Beratung über die Auswahl der Entwürfe bis zur Umsetzung meiner konkreten Vorstellungen in ein außergewöhnliches Schmuckstück – kurzum: "Alles sehr schön geworden!"
Prof. Dr. Lothar Seiwert, CSP, CSPGlobal, Top-Keynote-Speaker und Bestsellerautor "Simplify your Life" und "Simplify your Time"
www.Lothar-Seiwert.de 
I am a real connoisseur of Life…. and I love to collect unique jewelry and art that express my inner thoughts and feelings in a beautiful way. 
My future husband, Lothar Seiwert,  knows this about me, and wanted to buy me the ultimate Christmas present. So he went to Gisela Backe.  
Lothar and I both are performing artists who spend a good deal of our time on the stage, and Lothar commissioned Gisela to make a customer silver tiger necklace for me to reflect the power that I bring to my audiences during my keynotes. 
It is amazingly beautiful, powerful, and uniquely….. me.  Every time I wear it, I remember that my role in life is to inspire people around the world to find their own tiger power.  I am reminded of my unique power, and that Lothar loves me very much. 
If you love jewelry and want to find a unique piece that reflects your inner message, your inner power and strength, then I recommend a visit with Gisela so she can capture the the beauty and power of YOU. She makes the entire process fun, meaningful and the results are something you will cherish for a lifetime. 
Thank you, Gisela!
Dr. Renée Moore
www.reneemoore.com
Schon bei der ersten Begegnung mit der Schmuckdesignerin Gisela Backe spürte ich, da ist jemand mit Leidenschaft und Tiefgang am Werk.
Individuell gestaltete Schmuck-Unikate als bleibende Erinnerung an besondere Momente oder Anlässe – was für eine schöne Idee !
Als ich dann noch die ersten Bilder sah, in denen Gisela Logos als Schmuckstücke umgesetzt hatte, war für mich sofort klar: Das will ich auch haben !
So verabredete ich gleich einen Termin mit ihr um mich näher über die Möglichkeiten zu informieren. Ich hatte zu diesem Zeitpunkt nur eine sehr, sehe vage Vorstellung im Kopf wie mein Logo als Schmuckaccessoire aussehen könnte. Gisela hatte sofort tolle Vorschläge bzgl. der Ausgestaltung für mich, die sie mir so detailreich und bildhaft beschrieb, dass ich fast das Gefühl hatte das zukünftige Schmuckstück schon vor mir zu sehen.
Deshalb musste ich auch nicht mehr lange überlegen. Ich verlies ihr Atelier mit dem guten Gefühl, dass sie bestimmt etwas einmaliges und wundervolles für mich gestalten wird.
Sie fertigte meinen Anhänger zunächst aus reinem Feinsilber. Er sah auch schon sehr schön aus, fühlte sich aber irgendwie noch nicht so ganz stimmig für mich an, was einfach daran lag, dass ich Goldschmuck bevorzuge. Gisela spürte sofort, dass ich noch nicht so 100%ig glücklich war und machte den Vorschlag den Anhänger teilweise zu vergolden, sodass dieser auch meinem Logo noch viel detailgetreuer entsprechen würde. Und genau das war es!
Jetzt wo ich das fertige Schmuckstück in Händen halte, kann ich nur sagen, sie hat meine Erwartungen nicht nur erfüllt, sondern sogar noch weit übertroffen. Persönlicher kann ein Schmuckstück nicht sein ! Vielen lieben Dank dafür !
Sabine Prats-Vélez
Inhaberin des ColorMundo Make-up & Beauty Ateliers in Ladenburg www.colormundo.de
Do you have a question or remark? Send me a message and let me know how I can help you. I'll reply as soon as possible.